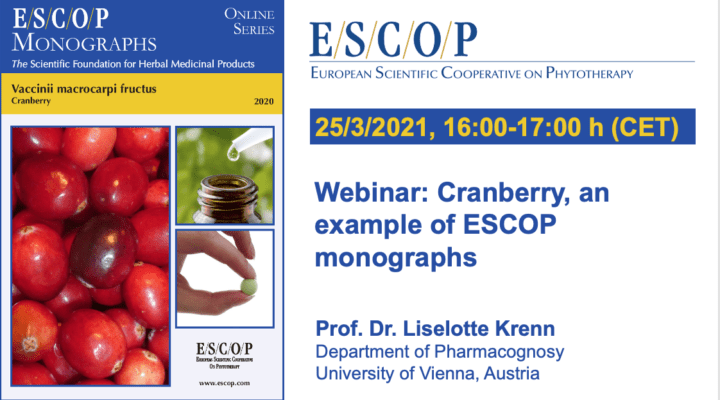 Program:
16:00-16:05 h.

Presentation of ESCOP.

Dr. Tankred Wegener (Chaiman of ESCOP).

16:05-16:40 h.

Lecture: Cranberry, an example of ESCOP monographs.

Prof. Dr. Liselotte Krenn, Department of Pharmacognosy,

University of Vienna (Austria).

Deputy Chair and member of the scientific committee of ESCOP.

16:40-17:00 h.

Forum-debate.
Moderator: Prof. Evelyn Wolfram, member of the ESCOP scientific committee.
Price (*):
General public: € 30

Members of the societies belonging to ESCOP (as SEFIT): € 15 (with the code provided by your society)

(*) Registration includes a € 15 discount code on the purchase of the monograph: European Scientific Cooperative on Phytotherapy. ESCOP monographs The Scientific Foundation for Herbal Medicinal Products. Online series. Vaccinii macrocarpi fructus (Cranberry). Exeter: ESCOP; 2020. 50 pages.